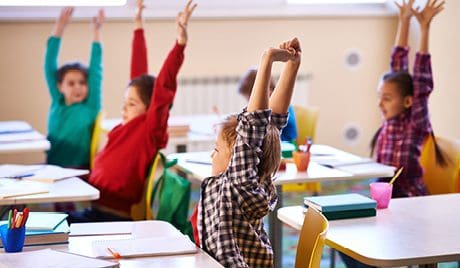 Regular movement not only helps reduce childhood obesity, it helps kids grow smarter. A healthier mind means higher test scores, better classroom participation and fewer problems in school.
Aside from improved physical fitness, active kids gain leadership and teamwork skills, as well as improved self-confidence and self-esteem. By developing healthy behaviors early in their lives, kids are more likely to carry on these habits into their futures, so be sure your kids are moving every day.
BEFORE SCHOOL
There are lots of ways your kids can get active before, or even on the way to school:
Stretch with your kids in the morning. Warm up with some arm circles or toe touches before heading out the door.
As long as it's safe, walk or bike to school. Be sure their route has adult crossing guards at every intersection, and always wear a helmet.
DURING SCHOOL
P.E. and recess aren't the only times kids should be moving at school. Support school policies, in-school activities and after school programs that create active school environments. Programs and policies might include:
Daily recess
Physical education classes
Intramural athletic programs
After school activities
Interscholastic sports programs
AFTER SCHOOL
Encourage kids to get some extra movement during their extracurricular activities or at home.
Play together as a family. Go for a bike ride, shoot some hoops or take a walk.
If sports or fitness programs don't fit into your schedule, make time each night to play with your kids. You could try a new game each week!
Enroll your child in afterschool activities like sports, dance or fitness programs.
QUICK TIP