WANT EVEN MORE HEALTHY IDEAS FROM SHAPE YOUR FUTURE?

Click to sign up for our monthly emails!
When it comes to health, parents are their kids' biggest role models — with eating patterns and exercise. Leading your family to become more physically active is endlessly rewarding. You'll create lifelong memories while forming life-changing habits.
However, many kids think of exercise as a chore, like scrubbing the bathroom floor or doing the dishes. It doesn't have to be this way! After just a few tweaks, you'll be moving as a whole family in no time!
It's a fact that regular exercise plays a crucial role in keeping kids healthy. Here are a few benefits:
Improved focus and energy levels
Properly developing young bodies and muscles
Better sleep
Decreased symptoms of anxiety, depression and loneliness
Reduced risk of type 2 diabetes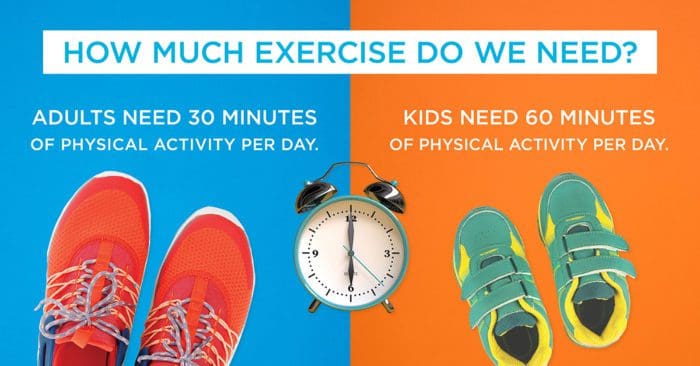 Now that you know how exercise can benefit your kids, let's look at some ways to un-chore — and un-bore — physical activity!
Be a model of movement. As a parent, you set the standard in the eyes of your kids. When you stay active throughout the day, they notice! Prioritizing exercise and physical activity will inspire a lifetime of movement.
Change your mindset. Bodies in motion tend to stay in motion. Forming an exercise habit is like getting a locomotive rolling. It's slow at first (and that's okay), but once you've built momentum, it's easier to keep moving.
Take a stroll in nature's classroom. Hiking is a great way to get moving and take in the scenery. Collect native leaves and identify critters out on the trail!

Is the family to-do list full of mundane tasks? Make it a competition! Raking leaves? See who can make the biggest pile. Same for picking up sticks or pulling weeds. A little competition transforms any chore into a good time!
Try sports that require minimal equipment:
Soccer
Basketball
Football catch
Frisbee golf
Transportation station: Try walking or biking with the kids to school or to the store! Early human-powered transit can inspire a lifetime of movement.
Incorporate family walks either before or after dinner.

While watching TV, get moving in between episodes or during commercials. Try jumping jacks or lunges!
See? Making moves is fun and can have a lasting impact on the quality of your family's health — and it creates unforgettable memories.  Can't wait to get started? Explore more of our family-friendly exercise tips and activities!