WANT EVEN MORE HEALTHY IDEAS FROM SHAPE YOUR FUTURE?
Roses are red. Violets are blue. Teachers will love these healthy Valentine's Day ideas… and parents will too!
Help your kids show their health a little love this Valentine's Day with fun, creative downloads, videos and more! Incorporate them into the classroom for your Valentine's Day celebration, or have some heart-healthy fun at home!
Check out the ideas and links below, and find more you're sure to adore at ShapeYourFutureOK.com.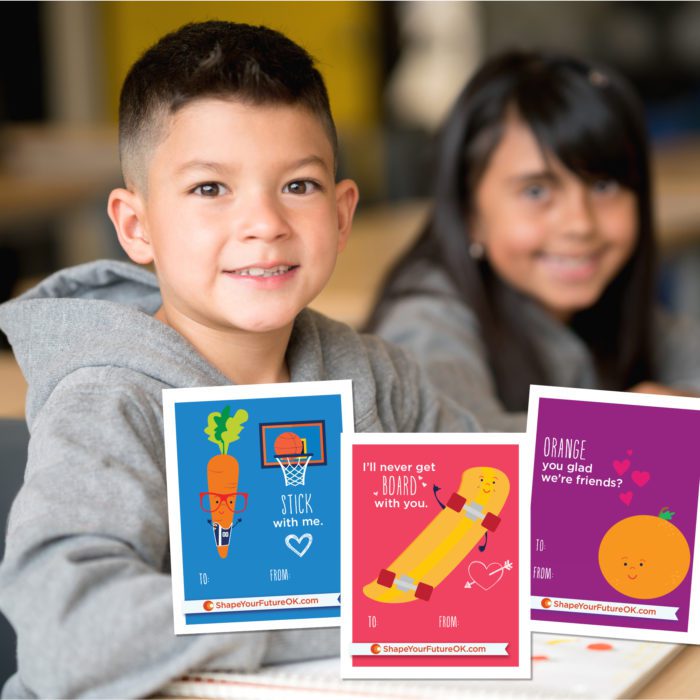 Healthy Valentine's Day Cards
Kids will love these sharable Valentines. Simply print and fill them out for classmates and friends. You can find fruit-themed Valentines, veggie-themed Valentines, basketball-themed cards for your favorite team and activity ones too!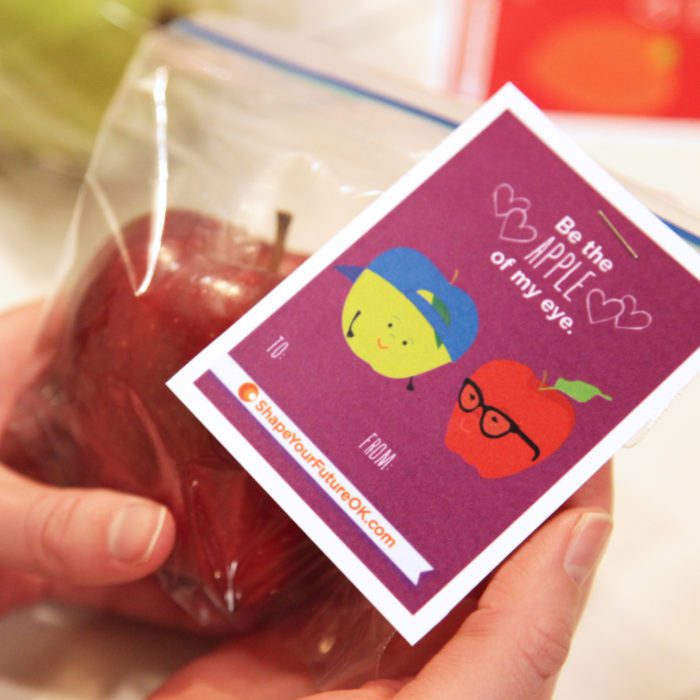 Show some extra love by stuffing fruit into sandwich bags and stapling them with the corresponding Valentine's cards! Or for a nice reminder to choose water over sugary drinks, download our water straw pack. Kids can get some straws, poke them through the dotted circles and deliver cute little presents to their friends!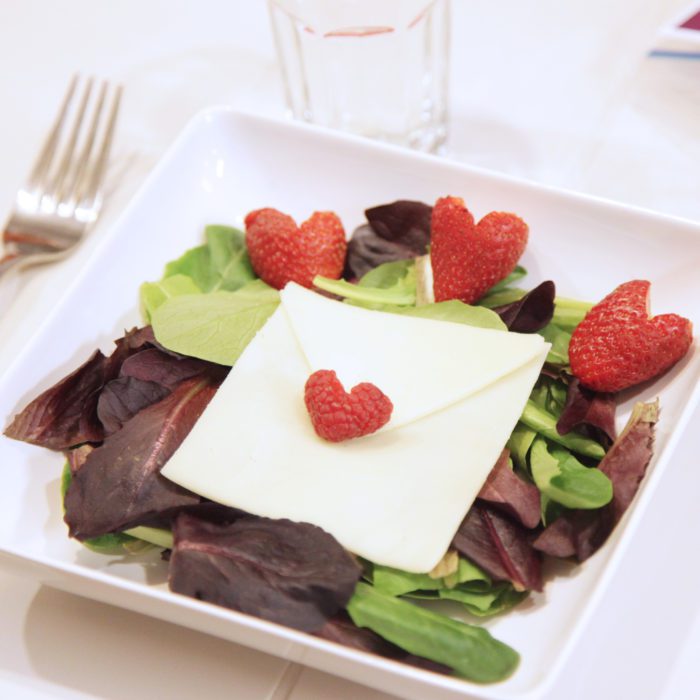 Creative Valentine's Day Recipes
Having snacks at your holiday celebration? Be sure to include nutritious fruits and veggies! It's important that kids fill half their plate with fruits and veggies — snack-time included. The three healthy snack recipes below provide dandy alternatives to typical sugary Valentine's Day candy. Watch the videos below to see how to make them, or click the link for step-by-step instructions!
1. I-Love-You-Berry-Much Kabobs
It's a heart-healthy snack on a stick! Simply slice some strawberries, group them with some grapes and enjoy! Make them for your class… or surprise your sweetheart with this sweet treat at home!
2. Signed, Sealed, Delivered Salad
By eating better, moving more and being tobacco free, kids (and adults!) can strengthen their hearts and improve their lives. Help them get started with this fun, creative salad recipe!
3. XOXO H2O
Fruit-infused water? What's not to love?! Make a pitcher of this dearly delicious water to share with your kids! All you need are apples, strawberries, raspberries or any other red fruit!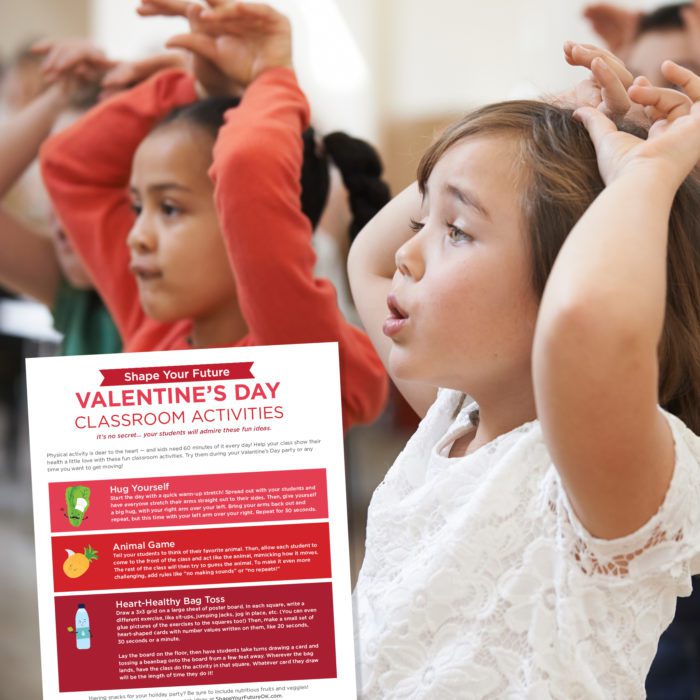 Valentine's Day Classroom Activities
Physical activity is dear to the heart — and kids need 60 minutes of it every day! Help your class show their health a little love with some fun classroom activities. Download our Valentine's Day Classroom Activities sheet and get moving today!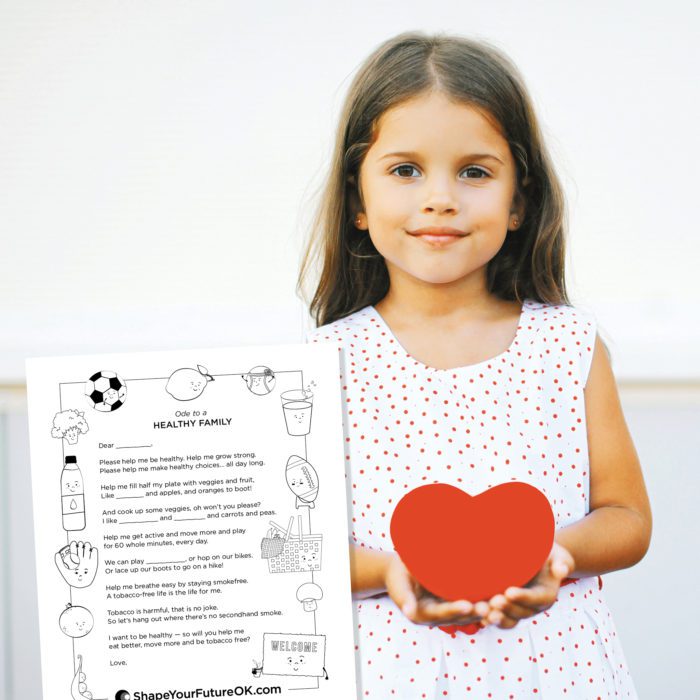 Valentine's Day Poem
With this interactive poem, kids can summon their inner Shakespeare and encourage their loved ones to help them live healthier. It's a darling way for your kids to show how much they look up to you.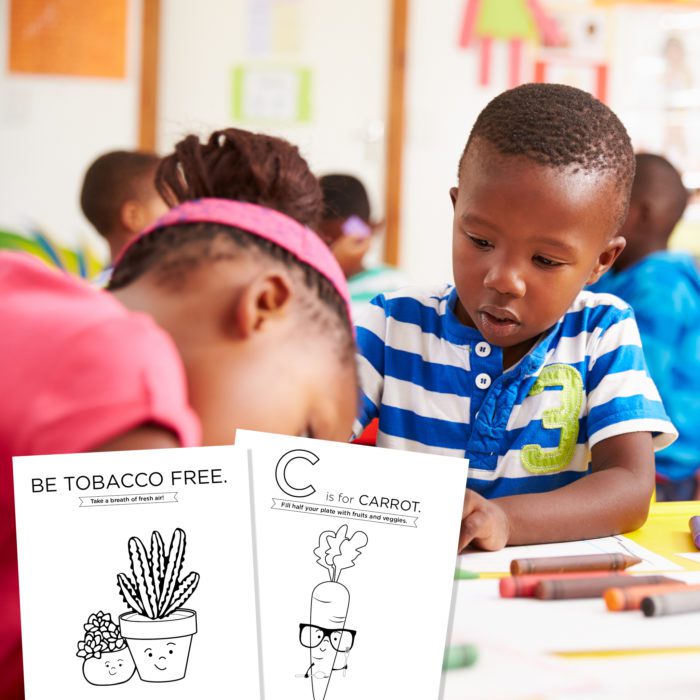 Coloring Pages
Looking for fun, healthy activities your kids can do on Valentine's Day? Take these coloring pages to heart. Boost the holiday theme even more by encouraging your kids to only use red, pink and other Valentine's Day colors. On your marker. Get set. Go!

It's no secret… your students will admire these fun, healthy Valentine's Day ideas.  Want everything above all in one place? Simply click here and start preparing for your Valentine's Day party today! Or find tons more healthy recipes, activities and ideas at ShapeYourFutureOK.com.