Items Tagged: limes
Pining for a unique, healthy salsa recipe? This pineapple-avocado-filled one will hit the spot.
For a hearty snack, this Black Bean Salsa is where it's at. Freshen up your next snack time with a batch of this fresh salsa.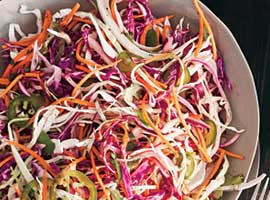 It has cabbage. Carrots. Red onion. Black pepper. Lime juice and jalapeños. This salad is slaw-mazing.