WANT EVEN MORE HEALTHY IDEAS FROM SHAPE YOUR FUTURE?

Click to sign up for our monthly emails!
One way to win this football season? Filling your table with healthy snacks! Whether you love grabbing finger foods on commercial breaks or digging into a bowl of dip while you watch, we have healthy recipes ready for your whole team! It doesn't matter if you're watching with your family or throwing the party of the century, these snacks are guaranteed to score major points.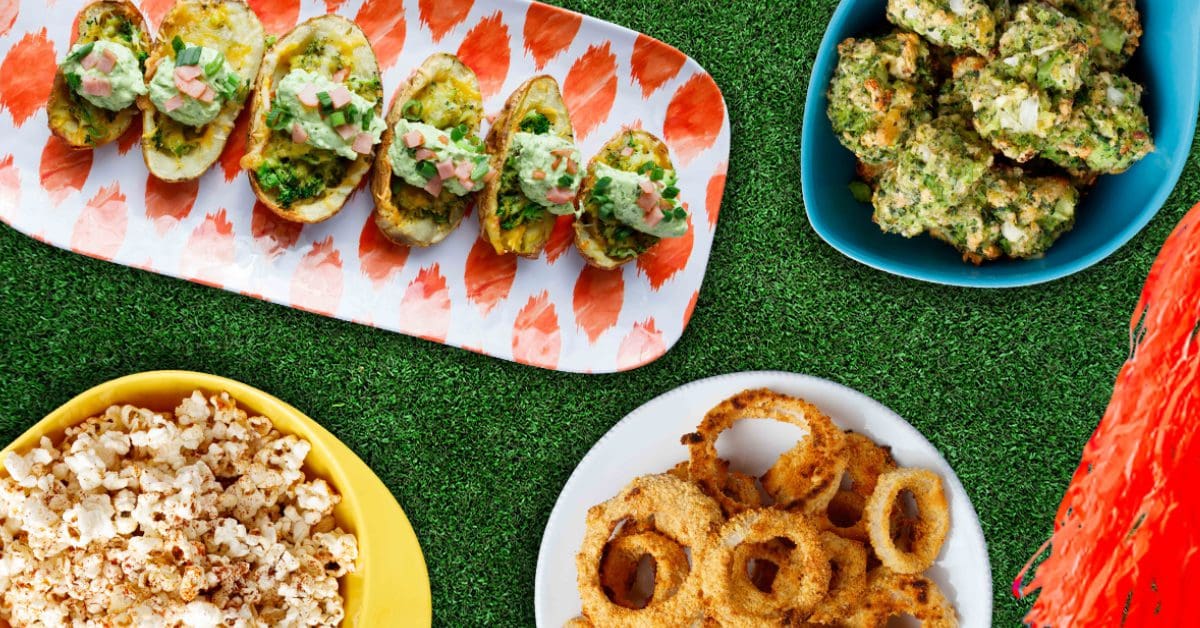 Finger Foods
If you're all about ease on game day, finger foods are for you! After all, silverware will only get in the way of rooting for your favorite team.
Broccoli Tots
Want a bite-sized appetizer you can pop in your mouth between plays? These tots are the perfect option! If you're pressed for time, you can always sub frozen broccoli for fresh.
Stovetop Popcorn
Popcorn and sports go together like peanut butter and jelly. For a healthy spin on this classic, make it on the stove. It's easy, delicious and will have everyone going back for more handfuls.
Broccoli Cheddar Stuffed Potato Skins
Add cheese and veggies to your table with this loaded potato skin recipe. Pre-load them for you guests or hold off on the toppings so they can build their own!
Baked Onion Rings
It's hard to go wrong with classic onion rings. Enjoy them on their own or make your own healthy dipping sauce!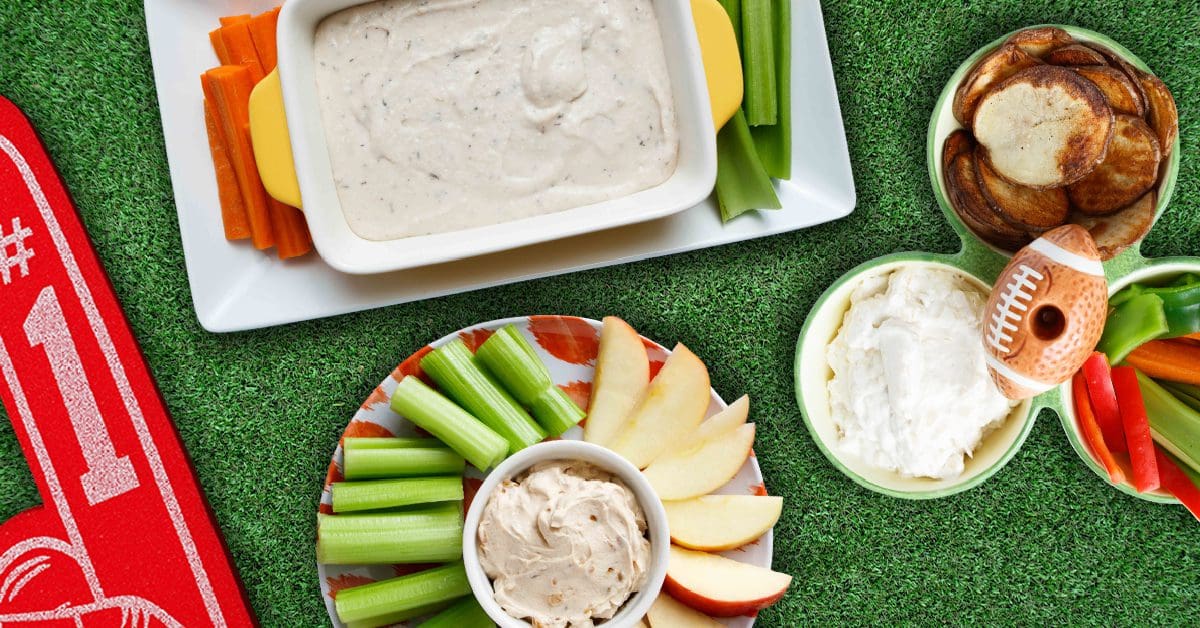 Dips
On game day, there's no such thing as too much dip! It's a simple and delicious way to add flavor to your fruit, veggies and bread.
Fruit Dip
If you have an abundance of fruit, whip up this 4-ingredient fruit dip to serve with it. Whether you're a fan of grapes and berries or bananas and mangoes, this dip will complement your spread beautifully!
Veggie Dip
We can't forget the veggies! For a healthier halftime snack, add some color and crunch to your table with a simple veggie tray and this lighter veggie dip.
Peanut Butter Yogurt Dip
Looking for a dip with protein in the mix? Try peanut butter! It adds an unexpected element that complements apples, berries and bananas.
Potato Chips with Onion Dip
If you love the biting flavor of an onion, this dip is for you! Serve it with carrots and celery — or make some homemade potato chips to go along with it.
Chipotle Sweet Potato White Bean Dip
This savory and hearty dip will blow your guests away. Fair warning: You may have to run to the grocery store at halftime so you can make a second batch!
Roasted Red Pepper Hummus
If you love hummus, try this recipe with an extra kick of flavor. Enjoy it with pita bread and cucumbers for a snack that tastes as good as it looks!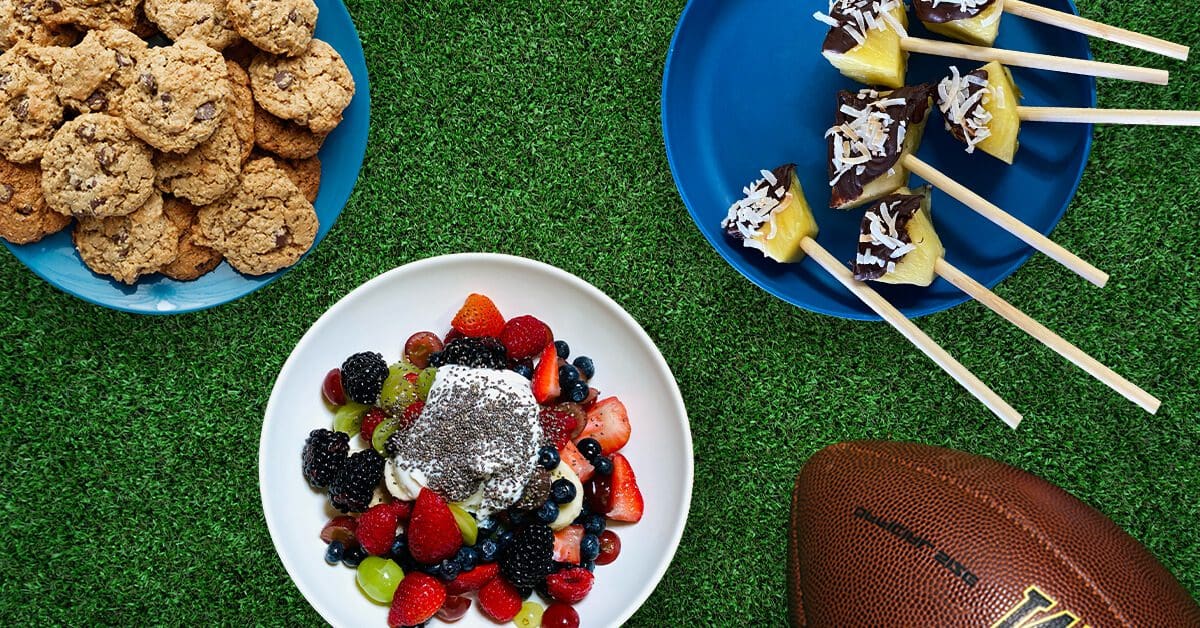 Sweets
Want something as sweet as that post-game victory feeling? Look no further!
Game Day Cookies
You can't go wrong with this cookie recipe. Enjoy them in moderation once your team scores their final touchdown.
Creamy Summer Fruit Salad
This refreshing fruit salad is a great dessert option for those game days when the temps are high, and the sun is blazing!
Chocolate Pineapple Pops
Sweet meets refreshing in this chilly treat. Prep them ahead of time and store them in the freezer for a chocolatey, fourth-quarter snack.
No matter what the scoreboard looks like during the final buzzer, one thing's for sure: you won't go hungry this football season. For more healthy ideas, head over to our recipes page. Also, check out our how-to blog to get moving on game day!