WANT EVEN MORE HEALTHY IDEAS FROM SHAPE YOUR FUTURE?

Click to sign up for our monthly emails!
What do you get when you combine two of our favorite meals in the middle of the morning? Brunch! For years, people have made reservations or waited in long lines on Saturday and Sunday mornings just to enjoy platefuls of breakfast food and conversation. Although brunch is fun, it can also be costly and not always healthy. Instead of shelling out your dollars, why not make a more nutritious brunch at home?
Here are 5 of our favorite healthy brunch recipes to make your weekend mornings at home cozy and delicious!
Breakfast Pizza
Our healthy take on this eggy dish is as easy to make as it is filling. All you need are a few eggs, some milk and your favorite breakfast toppings — such as turkey bacon, peppers and cheese — to whip up a perfect brunch feast. Have a picky eater on your hands? Choose some healthy toppings they already enjoy!
Banana Pancakes
Want to put a healthy spin on a breakfast classic? With bananas, eggs and oats on hand, you'll have these pancakes on the table in no time. Complement your banana pancakes with sliced fruit, fresh berries, nuts, cinnamon or a homemade blueberry compote that's sure to impress. Bonus brunch tip: Freeze the leftover pancakes to warm up for a quick, weekday breakfast!
Creamy Fruit Salad
Nothing says summertime like a fruit salad. This sweet salad is the perfect healthy side for your brunch — and it can be whipped up in minutes! The seasonal fruit and creamy yogurt is a scrumptious combination that will satisfy your morning sweet tooth. For an added crunch, toss in some nuts or chia seeds!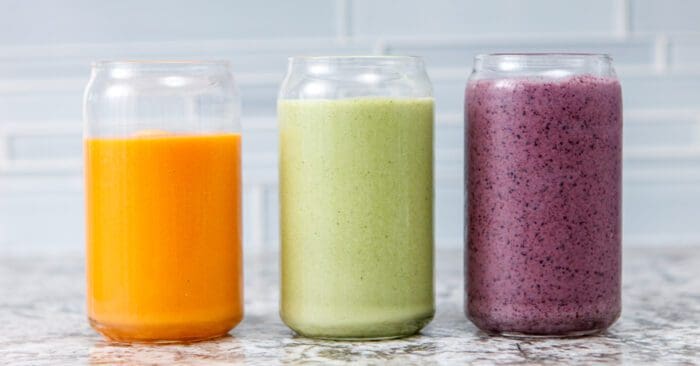 Smoothies
Now that your brunch plates are overflowing with healthy goodness, it's time to fill your cups! Smoothies are a delicious and nutritious breakfast beverage option. Grab your blender and favorite ingredients — then blend away! Bonus brunch tip: Sneak a few vegetables into the mix for added nutrition.
Get the Blueberry Spinach Smoothie recipe here.
Get the Peanut Butter Banana Smoothie recipe here.
Get the Mango Carrot Smoothie recipe here.
Sparkling Drinks
Want to finish off your brunch with a sparkling drink or two? All you have to do is pair some fresh fruit juice with sparkling water for a little extra fizz. Not sure where to start? Try our favorite recipes!
Get the Grapefruit Rosemary Sparkler Mocktail recipe here.
Get the Bloody Mary Mocktail recipe here.
There you have it: a healthy brunch that's sure to satisfy your belly and your heart. Now, go enjoy the rest of the weekend!
Looking for healthy options for any time of day? Head on over to our recipe page for more nutritious inspiration!