WANT EVEN MORE HEALTHY IDEAS FROM SHAPE YOUR FUTURE?

Click to sign up for our monthly emails!
Oklahoma offers tons of free activities that help get you and your family moving. From hiking trails to biking trails to parks and parking garages, there are TONS of places you can get active — all at no cost!
Move for 30 minutes every day — and help your kids move for 60 — with these 10 ideas below.
1. Park It at a Park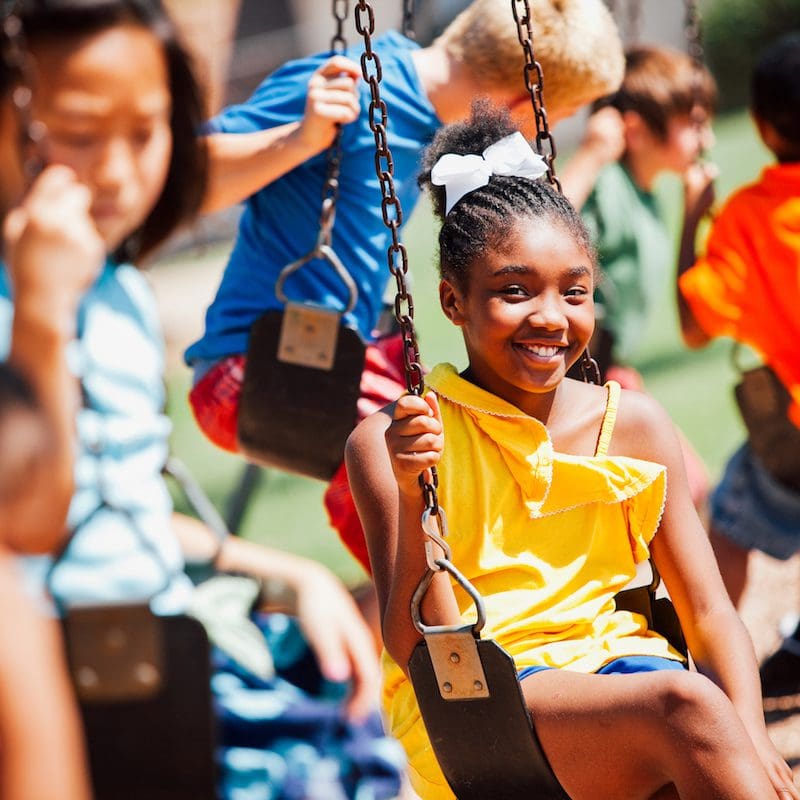 Walk, run, play, swing, slide, teeter, totter and monkey bar around with your family at a local park, or visit one of Oklahoma's 32 diverse state parks. Bring a Frisbee or football and toss it around. Or get your kicks with a game of soccer. You could also take a stroll around the Myriad Botanical Gardens in OKC, Honor Heights Park in Muskogee or Standing Bear Park in Ponca City. With Oklahoma's many parks, staying healthy is a walk in the… park.
2. Have a Picnic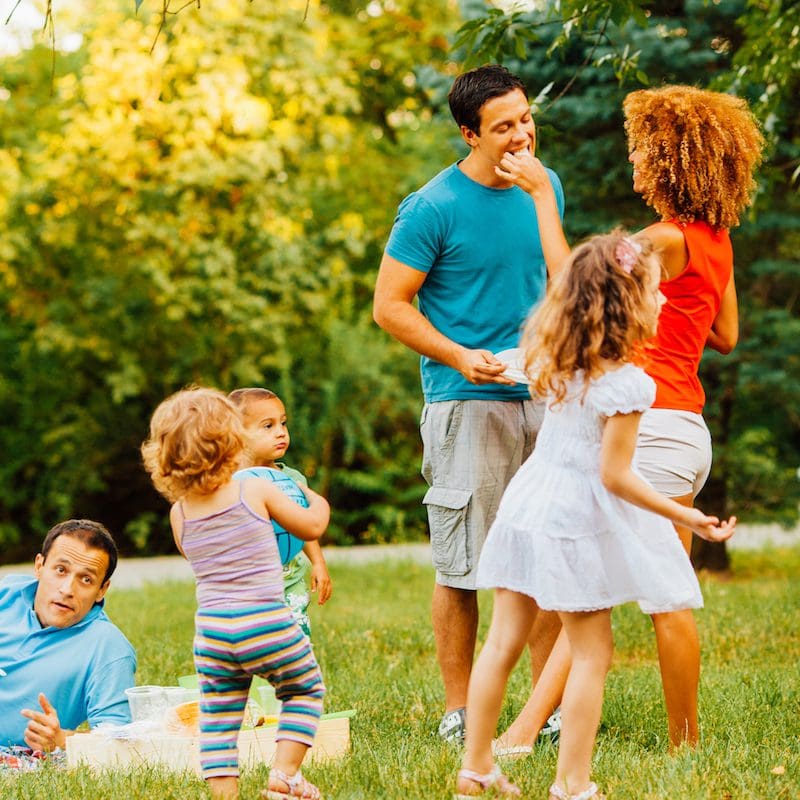 While you're at the park… set the picnic table! Pack your baskets with delicious and nutritious fruits and veggies, and wash it all down with refreshing, ice-cold water. Find tons of simple, healthy recipes perfect for a picnic here!
3. Shoot Hoops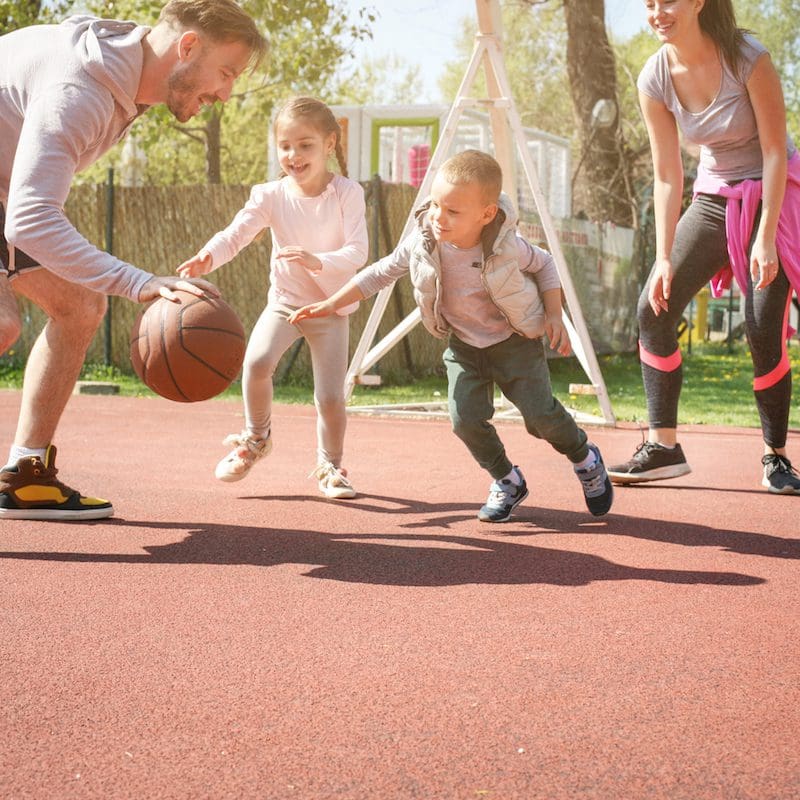 Many local and neighborhood parks include free basketball courts. When the weather is warm, grab the basketball and play some one-on-one with a friend. Or get the whole family involved and hoop it up with a game of H-O-R-S-E, 21 or Knockout! No park nearby? Play in your driveway or suggest playing in a neighbor's driveway!
4. Mall Walking
Small talk while you mall walk! If the weather outside is frightful, talking a stroll around the mall is a delightful way to get 30 minutes of activity. No mall nearby? No problem. Visit a department store or shopping center, or take a few laps around the grocery store before you do your shopping. Shop by — err stop by — a place near you and get walkin' today!
5. Go for a Bike Ride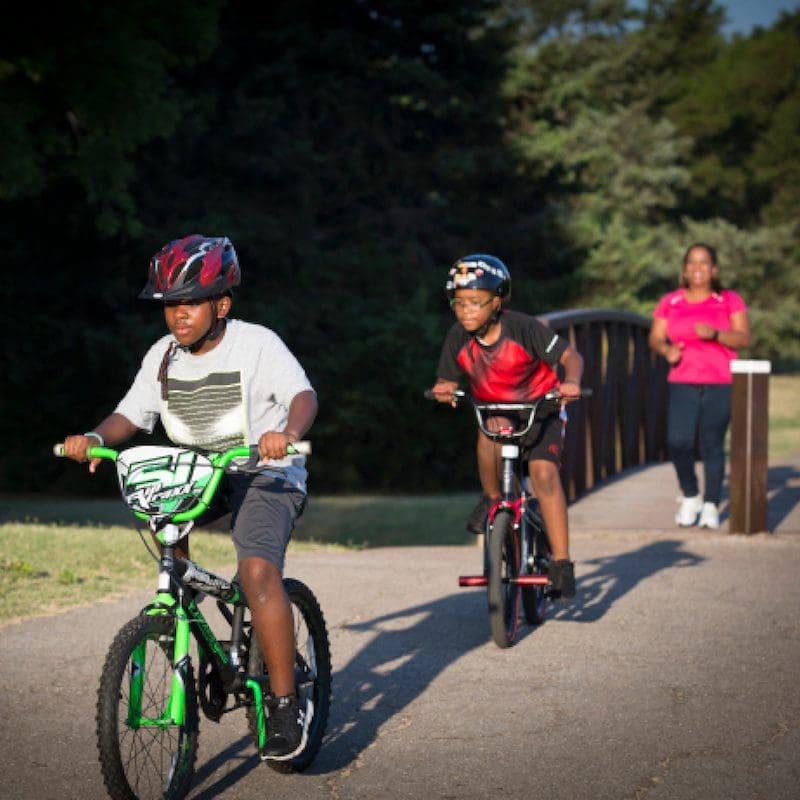 Take a liking to some biking! Shift your health into high gear by hitting the trails around Oklahoma. Ride for at least 30 minutes to get your recommended amount of physical activity for the day. Or bring the kids along and help them get 60 minutes! On your ride, stay hydrated with some refreshing, healthy water.
6. Take a Hike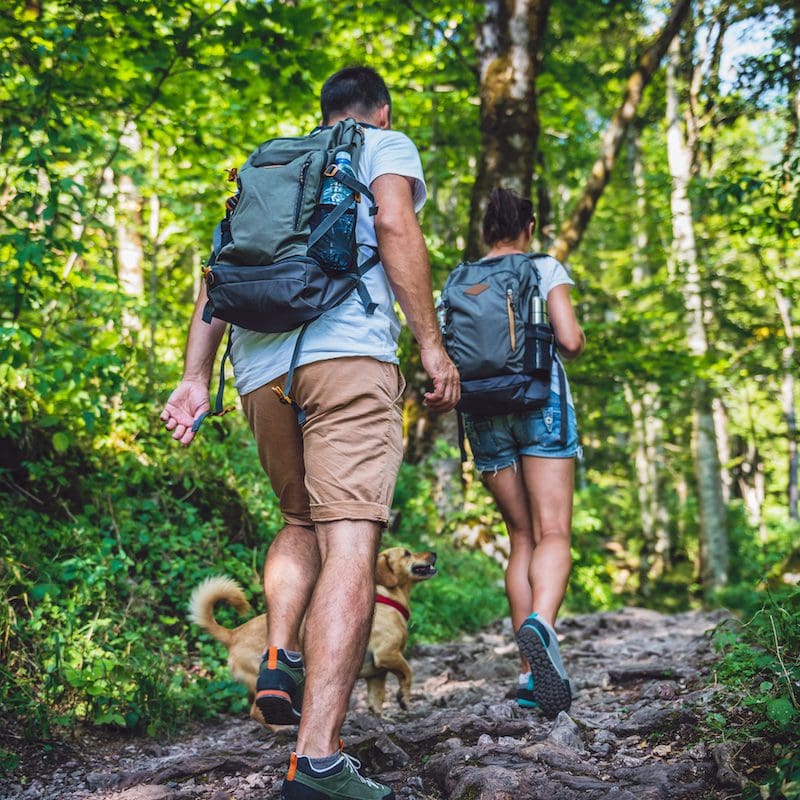 Hiking is just one of many outdoor activities for families, and Oklahoma has dozens of hiking trails across the state. Find one near you, then lace up your boots and explore the wilderness with your family! Before your hike, be sure to warm up with some arm circles, toe touches or even high knees. You could even try some yoga poses to really relax those muscles. Be sure to eat a healthy meal — filled with fruits and veggies — before a big activity like a hike too.
7. Visit the Farmers Market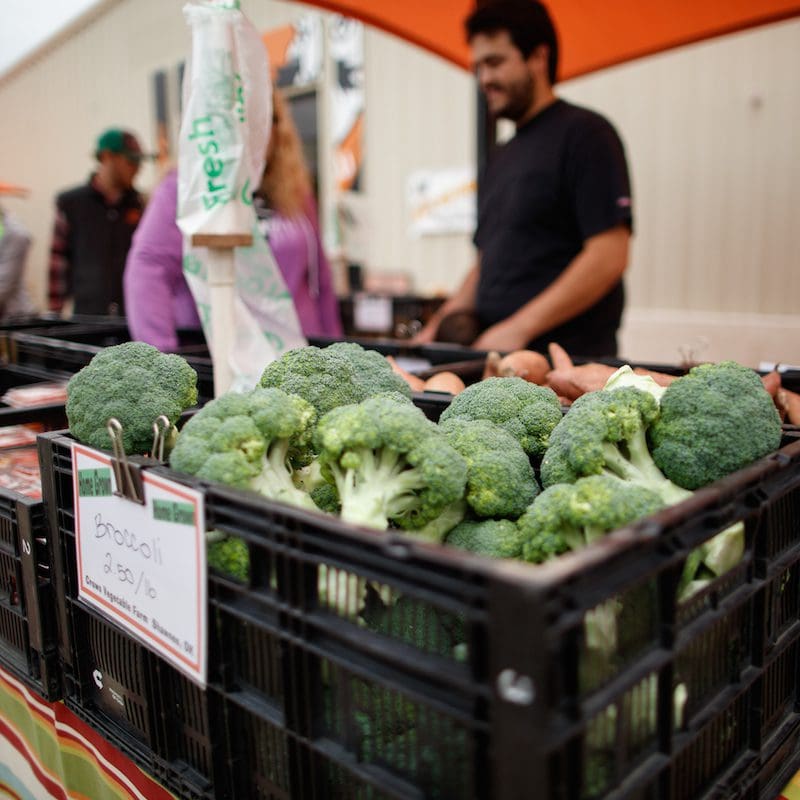 Thanks to local farmers markets, everyone can enjoy the mouthwatering taste of fresh, locally grown food like fruits and veggies. Farmers markets offer tons of fresh options to help you eat healthier, they're free to visit, and many offer free samples too. With all the vivid colors, delicious smells and charming smiles, they're a great place to walk around to get your 30 minutes of activity. If you do end up buying some local, fresh produce, remember — you're helping more than just yourself. You're supporting farmers and their families around the community too! Find a market near you.
8. Sneak in Activity Anywhere (Like in Parking Lots and Parking Garages)
Wherever you go — to the mall, the park, the store, anywhere — park your car as far away as you can in the parking lot. It's a simple way to add some more steps to your day. In parking garages, take the stairs over the elevator. Park higher up to get even more steps in!
9. Tour Nature in the Fall, Holiday Lights in the Winter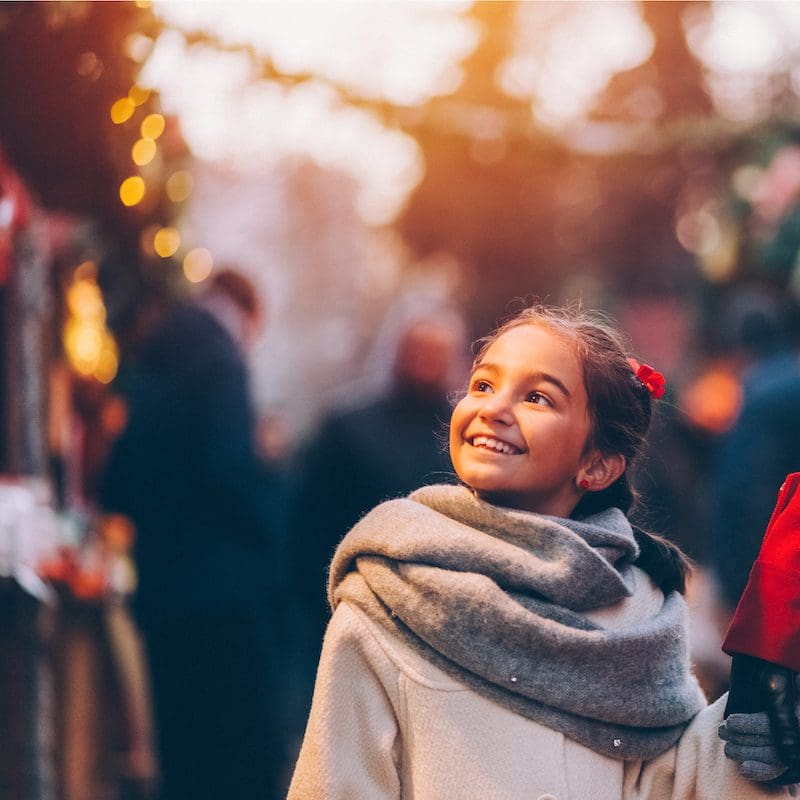 When summer fades to fall, get out and explore nature. Frolic through the foliage at one of Oklahoma's state parks or go on a nature walk around your own neighborhood. During the winter, brrring on the free family fun with a holiday light tour. Instead of driving around to see them, hoof it around the neighborhood… it's a holly, jolly way for your entire family to get 60 minutes of movement.
10. Enjoy Splash Pads in the Summer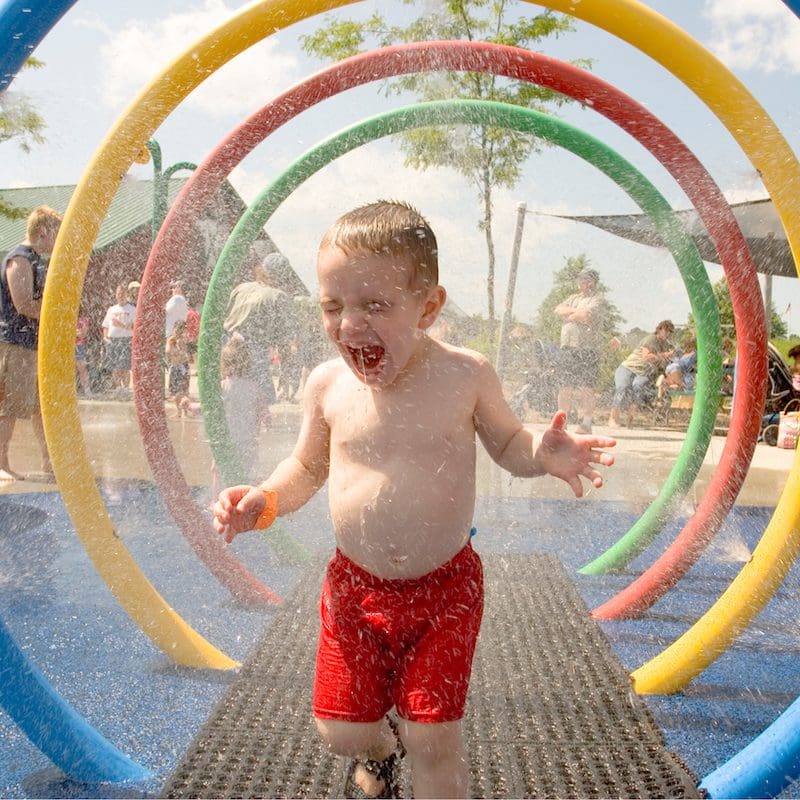 When summer starts to sizzle, make a stop at a local splash pad. Splash pads are free recreation areas often found in public parks and are a fun way for your kids to stay cool and get moving. Typically, they'll have ground nozzles that spray water upwards, making for some silly, slippery fun! Oklahoma has dozens of splash pads throughout the state. Plan a playgroup with other moms and friends, or go solo with your kids. Just be sure to pack some sunscreen, towels, sunglasses, refreshing water and healthy snacks!
Want even more activity ideas? ShapeYourFutureOK.com has tons of inspiration, including a huge list of family-friendly activities, as well as category-specific activities like At-Home Activities, Office & Workplace Activities, Easy & Beginner Activities and more!